New Technologies Allow Superior Custom-made Silicone Implants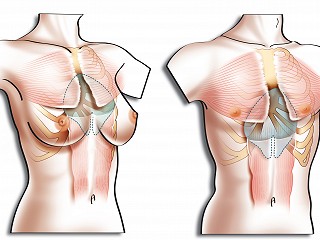 New technology using computerised 3D-CT scanning and computer-aided designing (CAD) process has been developed in collaboration between 2 companies in France to design and create highly accurate customised silicone implants.
The correction of some common conditions affecting the body shape requires bespoke implants designed and made to fit a specific and unique irregularity. Some of these conditions are: pectus excavatum (funnel or sunken chest), Poland syndrome, and severe calf asymmetries.
Custom-made silicone implants have been used for over 40 years. In order to manufacture them, the surgeon used to make an imprint, using special mouldable material, and form it in a shape that fits the defect as much as possible. These moulds were sent to a factory to manufacture the implantable silicone devices. Very often these implants didn't fit the defect perfectly, moved or became visible under the skin and therefore were met with high rates of complications and low rates of patient satisfaction.
Anatomik Modeling, a company based in France, developed process of designing these implants using computerised 3D virtual copies of the patient's bone and muscle structures. Once agreed with the surgeon, SEBBIN implant manufacturing company produces that specific shape of silicone implant according to European medical device standards.
CAD design of an implant to correct Poland Syndrome
The use of computer-aided designing (CAD) process allows accurate measurements and the creation of implants that has a superior fit to the defect and as a result, a lower rate of complications. A study of over 400 patients treated with custom-made implants showed a significant higher patients' satisfaction using this new method compared to the old moulding technique.
This technique of correcting pectus excavatum, Poland Syndrome, and calf asymmetries is now provided in the UK by Dr Omar Tillo at the Centre For Surgery.
Correction of Pectus Excavatum using the new custom-made implants
Correction of significant calf asymmetry using the new custom-made implants